I collect . . .

UP - Kevin
UP - Anything Paradise Falls
UP - Kevin's Babies
UP - Some Carl and Ellie (particularly mailbox scene look/age)

FROZEN - Anna and Elsa together or when you can get a pair of pins
FROZEN - Elsa
FROZEN - Anna
FROZEN - Any of A&E wearing outfits from Frozen Fever or Christmas Adventure
FROZEN - Some Sven and Kristoff
FROZEN - Snowflakes
FROZEN - Bruni
FROZEN - Water Nokk
FROZEN - Sir Jorgenbjorgen (wish there was a pin, but I'd go for anything!)
(No Hans and Olaf only when in a group)

20,000 LEAGUES UNDER THE SEA - Anything with the Nautilus (submarine) or part of it or symbol of it - In otherwords - Anything Nautilus! Also would love the Mysterious Island pin!

CHIP & DALE (I get Chip, Sis gets Dale, and we share the together) - Any that appeal, I particularly like them with nuts and them for Fort Wilderness/Wilderness Lodge

GOOFY's CANDY Co. - Would love some of the actual GCCo. pins, but right now I get anything that looks like something from GCCo. (Sweets, treats, etc.)

ARISTOCATS - Duchess (small collection of pins that feature Duchess, alone or with other cats)

STAR WARS - MANDALORIAN (Baby Yoda, Cara, Mando)
STAR WARS - Leia
STAR WARS - Obi-Wan Kenobi
STAR WARS - Resistance (anything that says "Resistance")
STAR WARS - DUM Pit Droids
STAR WARS - Rebels (Heroes only, particularly Sabine and Hera and 'The Ghost', but anything! )

ROBIN HOOD (movie and characters) - Anything Robin, Marian, Merry Men, other characters
Anything Archery - Kind of goes along with the above, as I do Merida (with bow or arrows) and Hawkeye (w/ bow or arrow) and anything bow and arrows

LOTSO - Hardly have any, but Lotso is one of my top Disney loves! Plush, pins, anything . . .
Birthday

Jun 28, 1987 (Age: 36)
Location
PinPics ID / Pin Trading Database ID:
stratasfan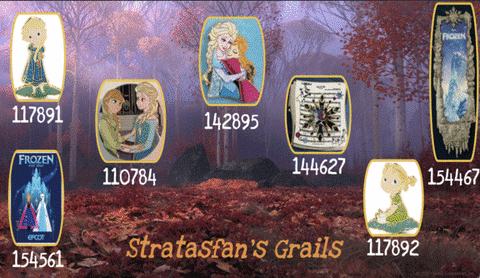 Sis and I LOVE pins! Been collecting for a while, new to trading, though. Don't really care about types of pins, just trade for what we like! That means purely the design on the front of the pin! Am more than happy to photograph any pins you want to trade for! So, feel free to let me know what you'd like to see, as I want everyone to know and be happy with what they are trading for!
20

1,000 messages? Impressive!

30

Content you have posted has attracted 500 positive reactions.

20

Your content has been positively reacted to 250 times.

15

Content you have posted has attracted a positive reaction score of 100.

10

You've posted 100 messages. I hope this took you more than a day!

10

Your messages have been positively reacted to 25 times.

5

30 messages posted, and at least 14 days registered on DPF. You can now buy/sell/trade in the marketplace!

2

Somebody out there reacted positively to one of your messages. Keep posting like that for more!

1

Post a message somewhere on the site to receive this.