Thought it's high time for me to post photos of this collection again. The original thread was lost in the hack, but that's okay -- Sis has since totally repainted the board for me!
As a bit of background for anyone who hadn't seen the original post about this board -- this is my favorite of my collections, and definitely the main one (with BatB, Minnie and Baby Yoda following). It was inspired by my very special
American Girl
doll (Nanea), whose collection "this is" . . . she just loves pin trading! She's been to Disney Springs to trade many times, and she even went to
The Polynesian
in her hula dress. Well, I started by thinking some pins of the Hula Dancers in
It's a Small World
would be fun to find, followed by some Aulani pins (being Nanea's "dream vacation"). It grew after a visit to Disney, when we learned about Dole Whip and visited the
Polynesian --
and after deciding that I just LOVE Baby Moana and needed some Moana pins (Moana the character only). There is a small grouping of Ariel pins as well, being the mermaid and often shown with pearls . . . and the fact that I love the Dinglehopper.
Sis painted the whole board to look like the scene with Baby Moana walking in the ocean. We printed Baby Moana on shiny photo paper to stand in the center.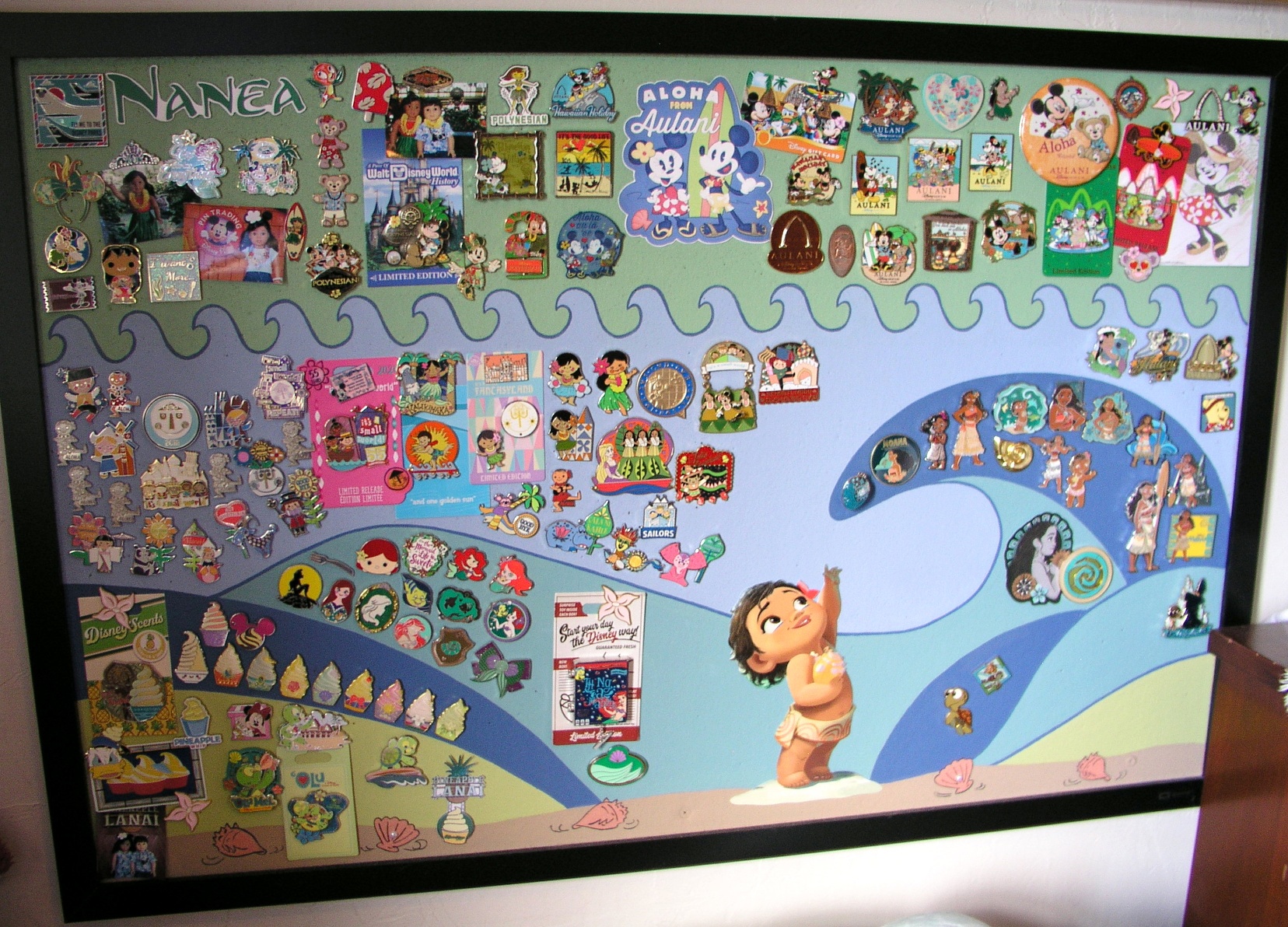 The top of the board sort of shows Nanea's "dream vacation" -- starting with her fashion accessories (Minnie Ears), flying to the Disney Parks, needing everything, etc. First stop is
The Polynesian
, then it's on to Aulani!
You can also see the
It's a Small World
section, which is such a fun part. Those pins are just so cute!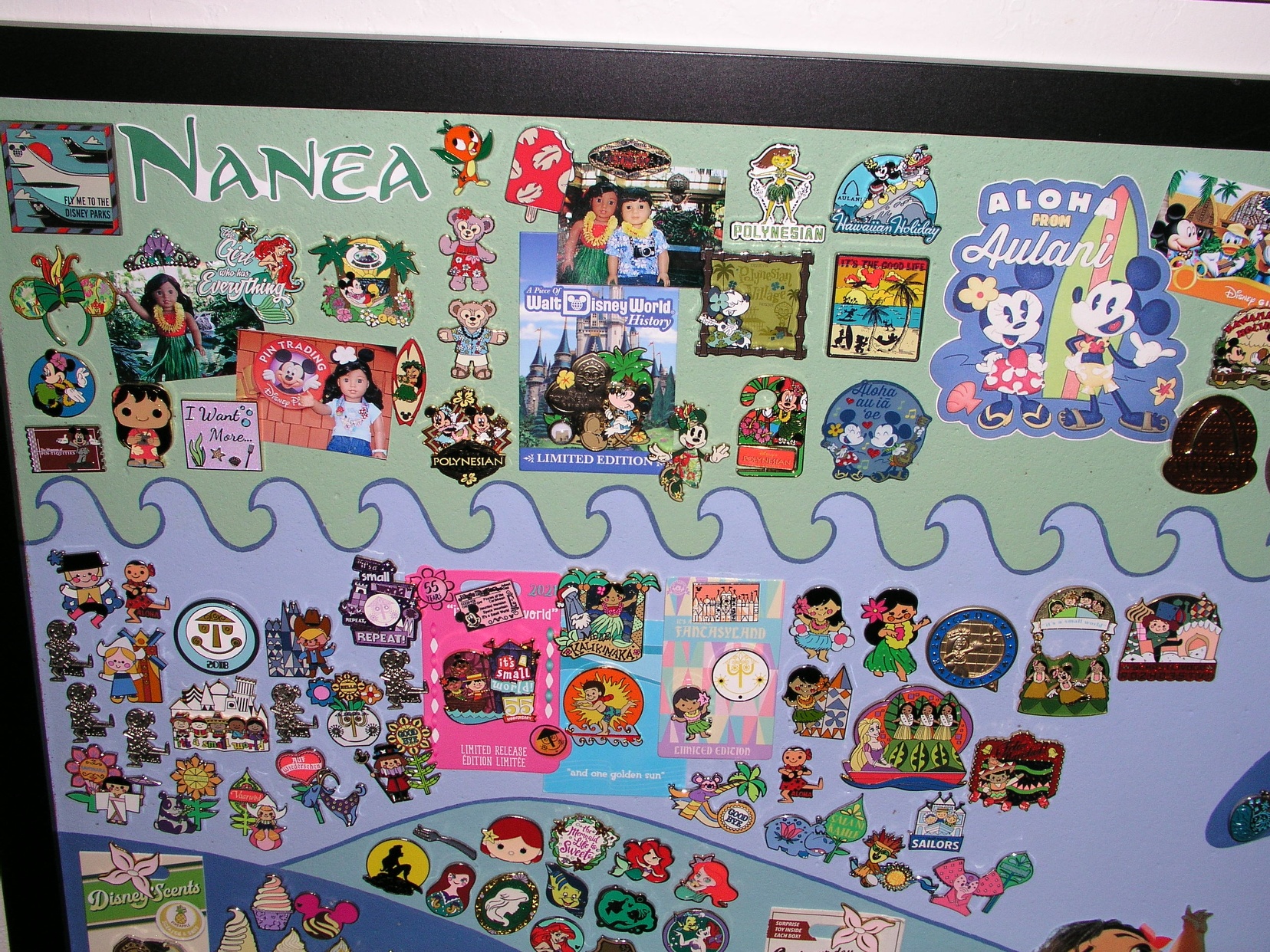 And more Aulani pins with the amazing "You Had Me at Aloha" pin that was a real dream to finally add to the board . . .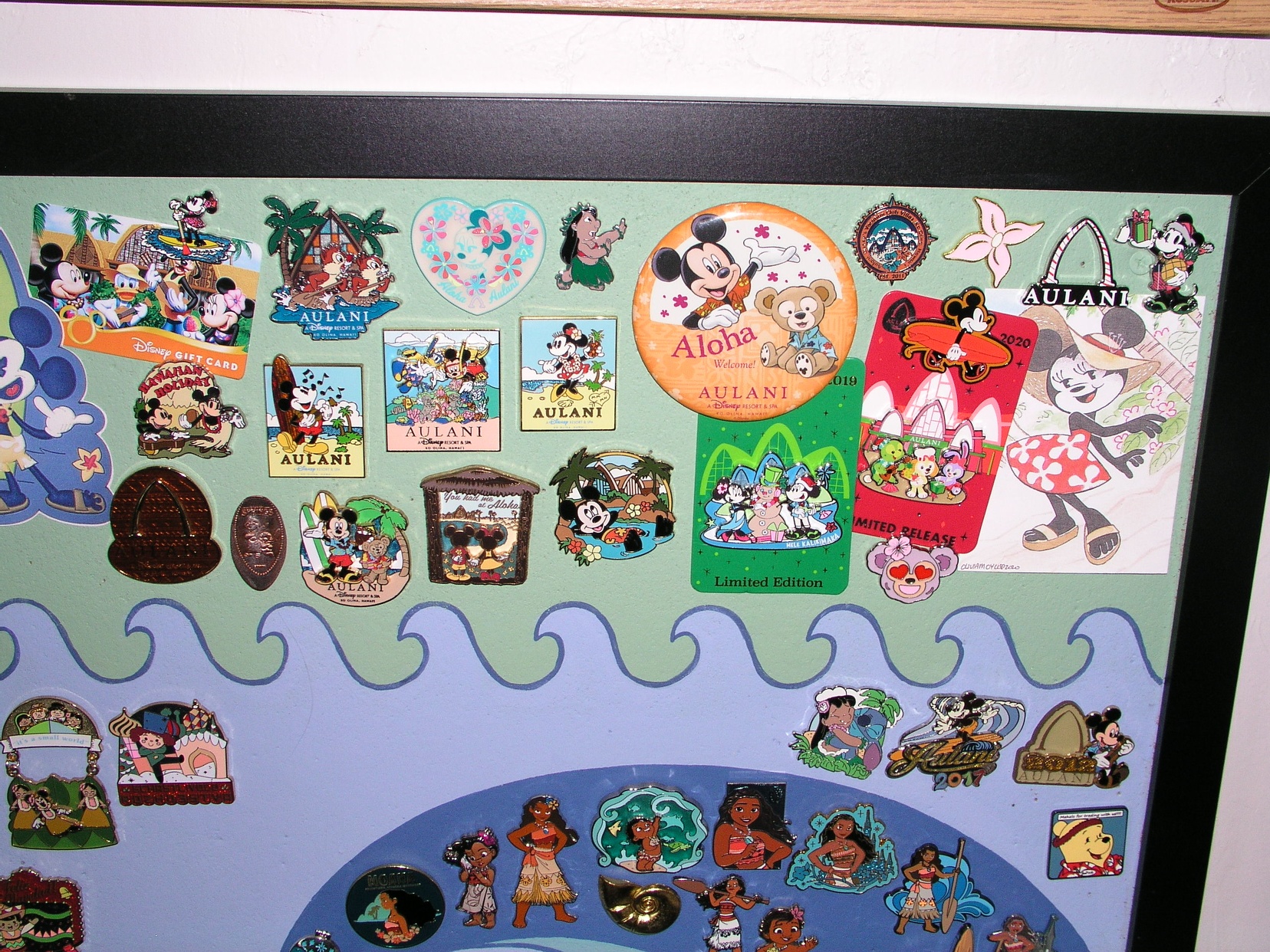 Dole Whip and Ariel -- that "Thingamabobs Breakfast Cereal" is so cute. Only two more of Loungefly Princess Dole Whips to go for a complete set!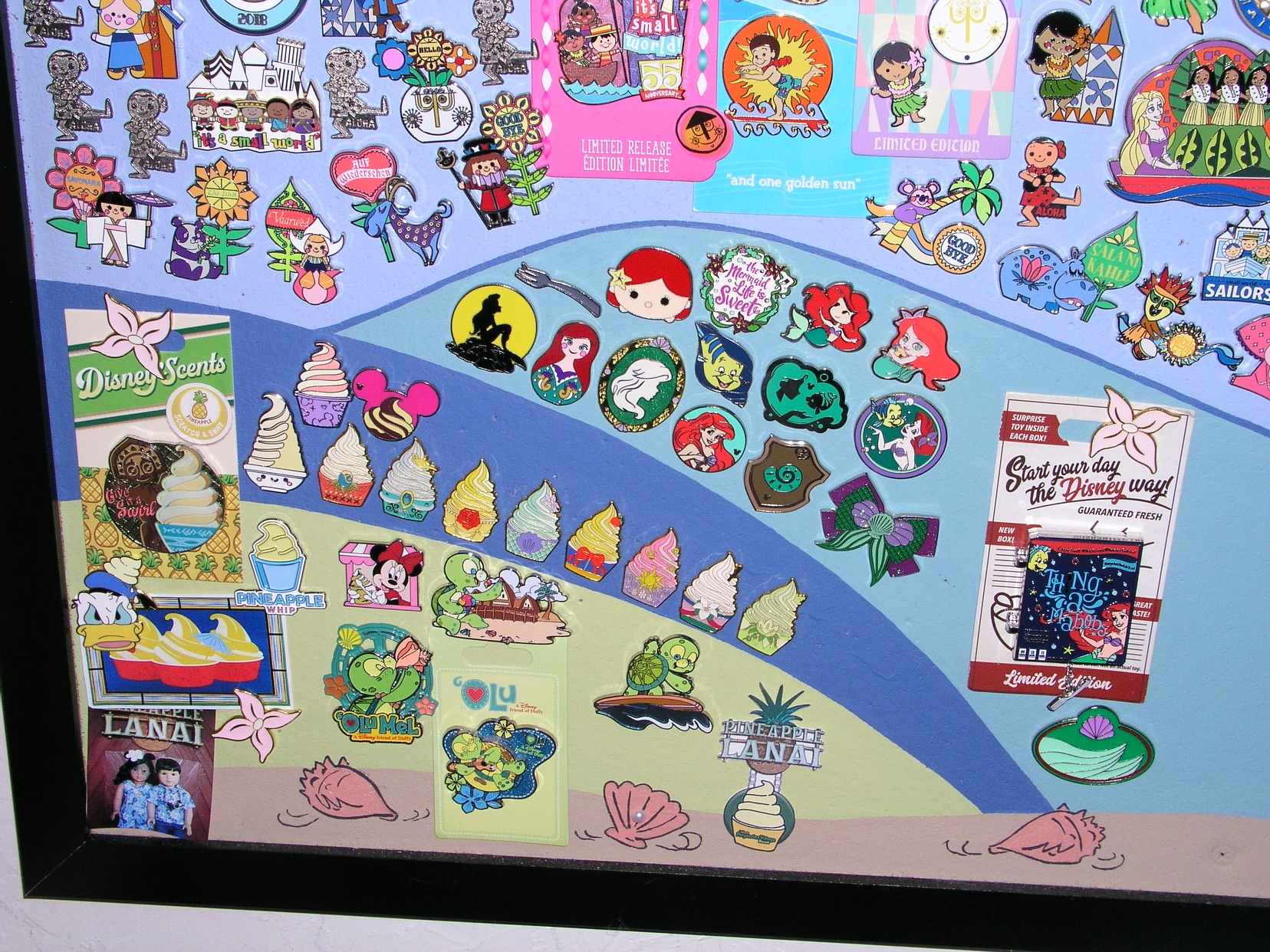 And the Moana section with a close-up of the pins. Never really thought that I'd have this many. There's one more spot, so I'm hoping to find a Moana pin to fit in there . . . and any that don't will just continue down into the bottom of the wave.
The newest addition here is the amazing FigPin there, which I just put in last night. Yay!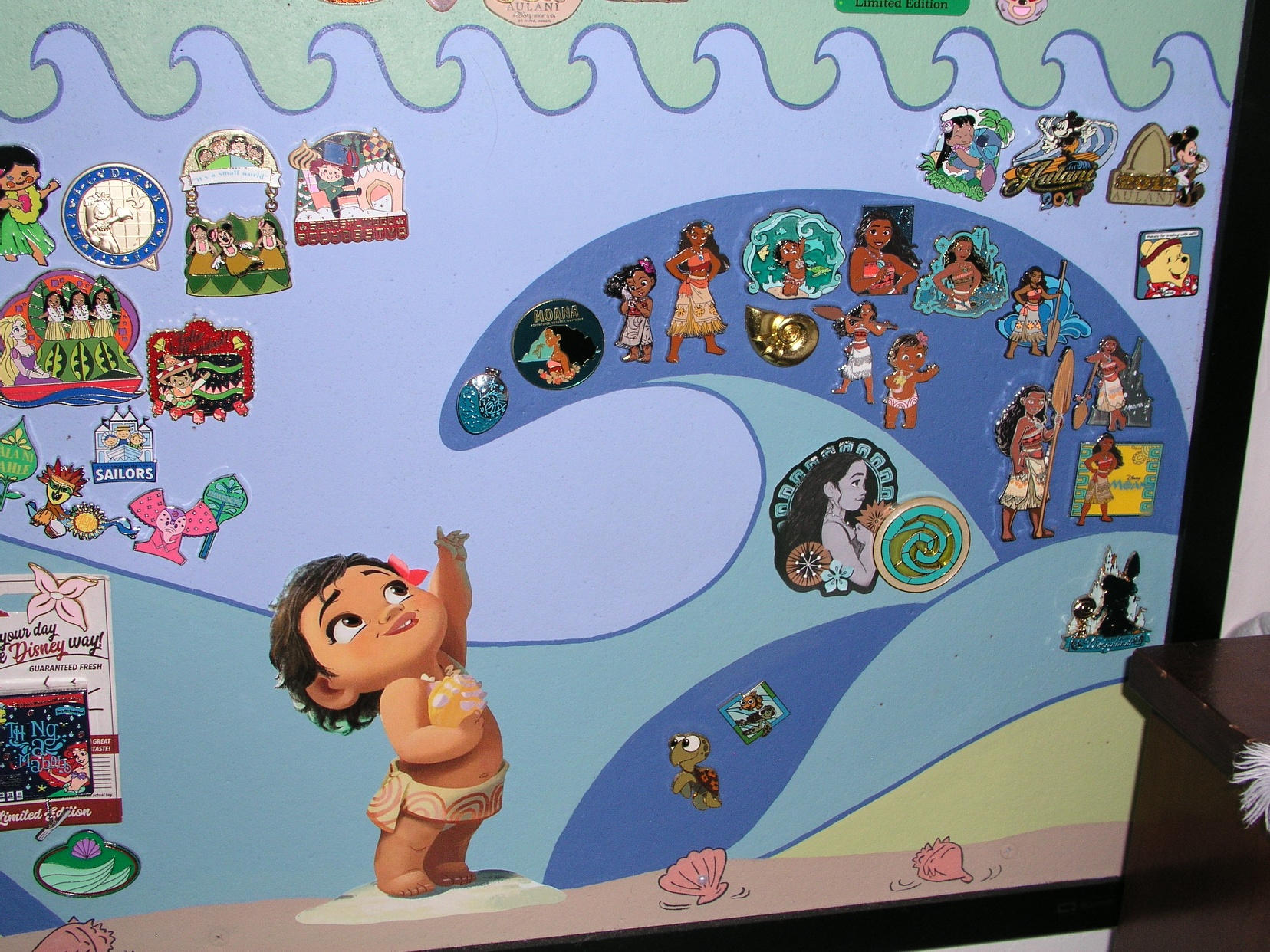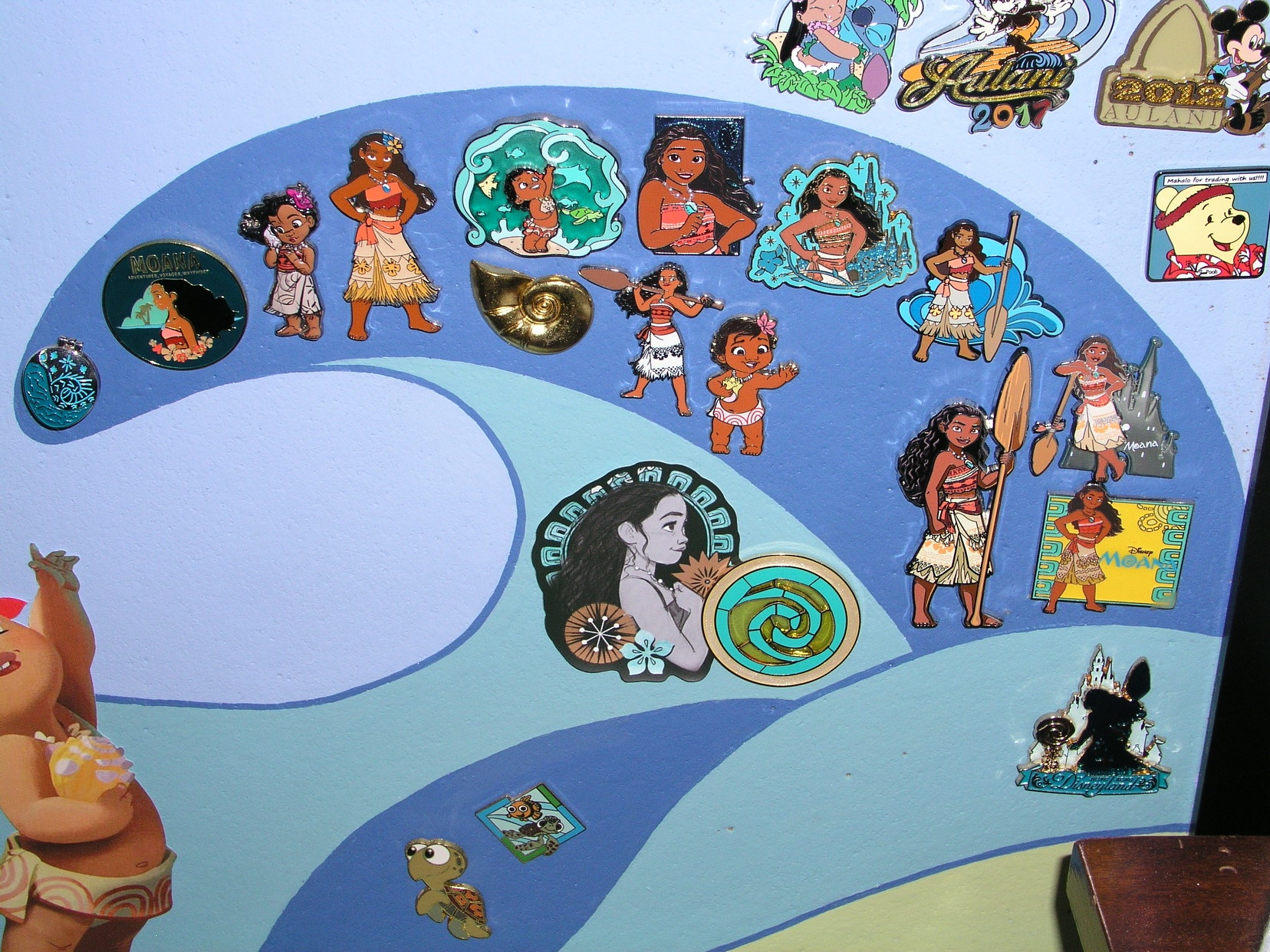 Well, this is totally up to date, as of last night . . . of course, you never know what trades will work out, so I'm always ready to add pins to the board.
Anyone familiar with Moana pins know of one that might fit in that empty spot (Moana alone)?